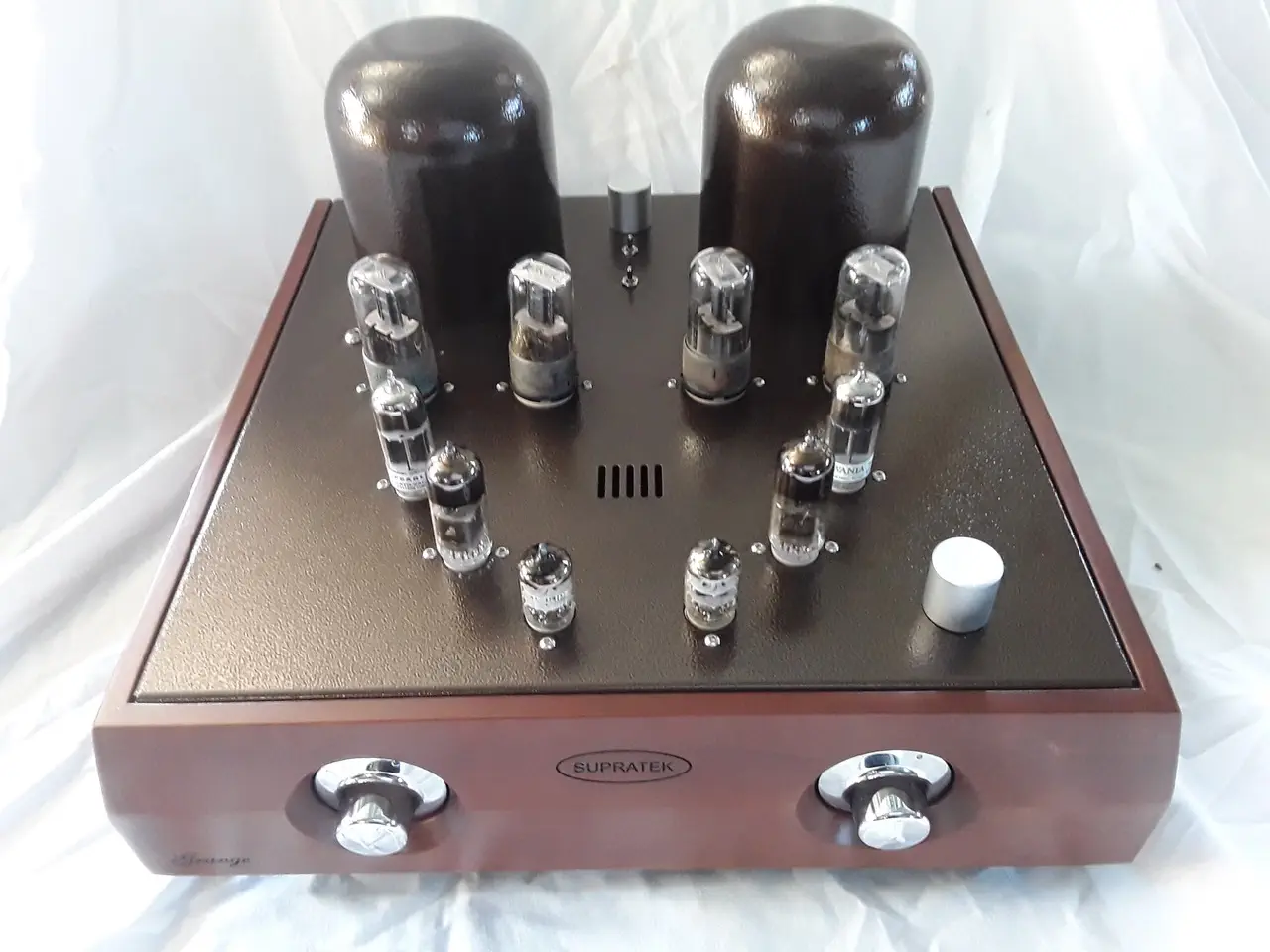 The Supratek Grange is the finest preamp we can make . Strictly limited release and designed and built for experienced tube enthusiasts who want the finest sound from their vinyl and digital equipment .
It comes in two versions – a Signature Grange which comes with 1940's NOS 6J5 tubes in the line stage and the DHT Grange which comes with 300B DHT tubes in the line stage.
The phono stage has been refined over many years and uses NOS (New Old Stock) tubes – 2 x E180F , and 12B4A/6E6P to suit moving coil cartridges in the range of 0.1mV to 0.5mV (depending on tubes used) .
The Grange phono section uses an LCR design with special custom inductors made for Supratek by Lundahl in Sweden.
Supratek has been designing tube phonos for MC cartridges for over 30 years, and this is the highest sound quality we have achieved . You will not believe what lies hidden in your vinyls grooves.
The linestage in the Signature Grange uses an older brother of the famous 6SN7 tube – the 6J5 , perhaps even purer in tone than the 6SN7 . Made in 1944, and purchased in bulk by myself in the late 90's they are wonderful transponders of tone and emotion.
The DHT Grange line stage uses the legendary 300B with a 6SN7 driver tube . Visually and sonically it will compete and mostly outperform any tube preamp available, at any cost.
Released in very limited numbers over the years, the Grange has already become a classic piece of audio equipment and the latest version sustains its legendary reputation for absolute sound and reliability.
Reliability is foremost in the Granges purpose , it will be many enthusiasts last purchase and it is essential to Supratek that it be performing as new in 30 years time.
To this end , every part of the Grange is over-engineered and thoroughly tested . Every Grange is tested and run in for a week before being sent to its new owner .
Both the Grange Signature and the DHT Grange are available in a Dual Version. This enables you to have two seperate and independent output stages , with adjustable gain .
For the experienced audiophile, these can be used for bi-amping or active amplification duties.
The Grange is available with a range of different finishes , all designed to reflect , but not equal the stunning sound of the Supratek Grange.