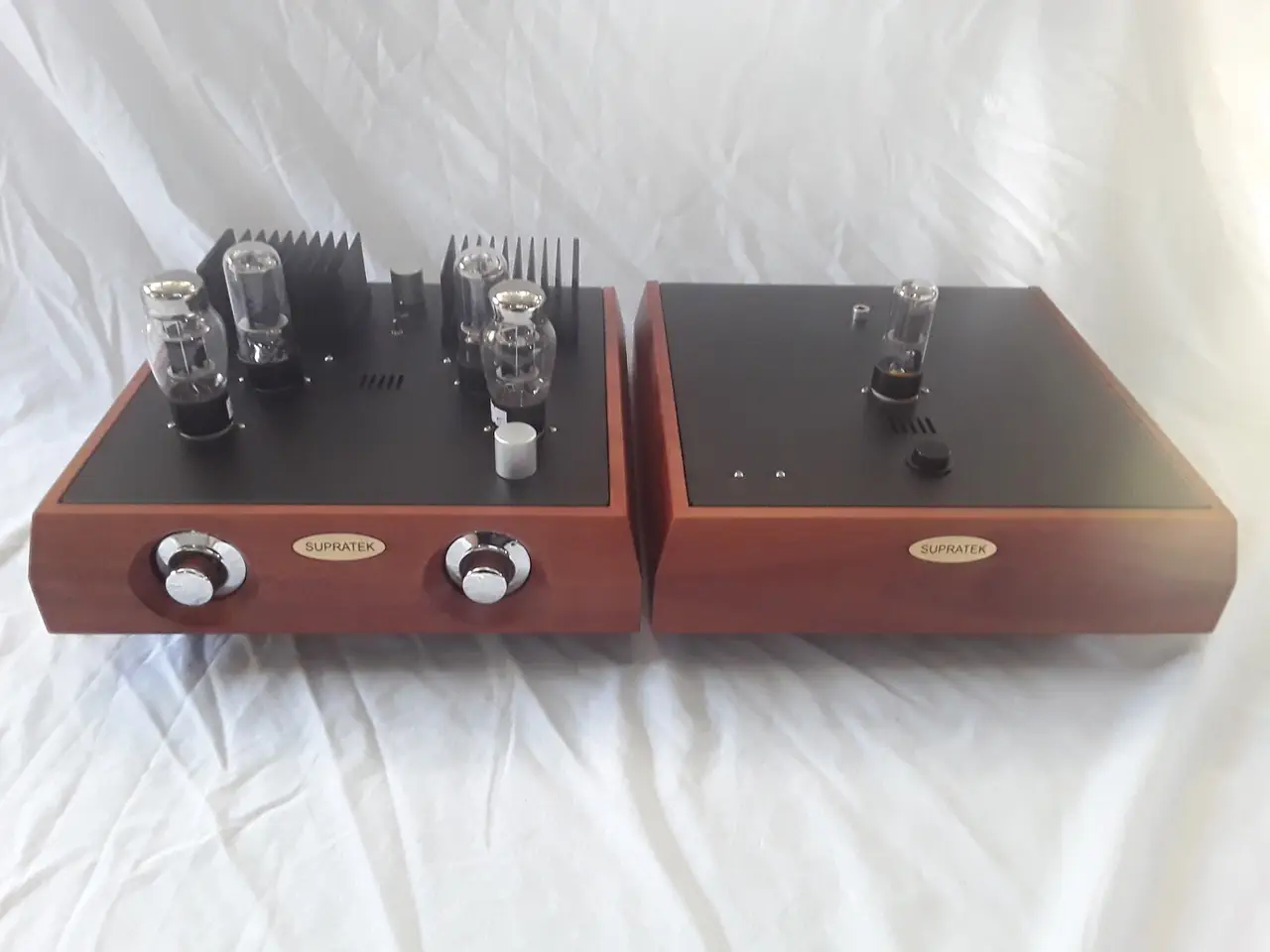 The Chardonnay is our entry level preamplifier. However its performance far exceeds its cost . The design of the Chardonnay goes back 30 years and is the basic building block of all the Supratek preamps. Over that period of time it has developed into a preamp that is highly evolved and uses state of the art tube design .
The Chardonnay has a modern sound , fast and detailed , but still with all the desirable attributes of a tube preamp. It has a vivid 3 dimensional sound with the realism that audio tubes bring.
It uses the famous 6SN7 triode tubes in a cascaded 2 stage design that has characteristics of dynamics, musicality and transparency.
The 6SN7 triode is unequaled for natural warmth, presence and "you are there" sound. It is perhaps the ultimate audio preamp tube.
The Chardonnay has very low output impedance which gives accurate frequency response into any power amplifier, tube or solid state . It will also drive multiple amplifiers .
Transformer coupled preamps are very rare in the commercial world as they are expensive to produce but once heard it's very hard to go back to conventional pres which sound thin and sterile in comparism.
The preamp uses a special shunt regulated power supply that contributes to it's clarity ,accurate response and tight bass.
Not one, but two regulators, one for each channel-it's overkill but sonically pleasing-they are the large 6L6G/5881 tubes towards the rear of chassis.
A seperate and matching power supply unit ensures quiet operation and because of its massive power transformer and over-engineered parts will provide long term reliability . There are many Supratek preamps operating with 20 years operation on original tubes.
As with all SUPRATEK preamps the transformers are of the finest quality–the power transformer is big enough for a substantial power amp and the imported output transformers have been specially chosen for the preamp.
All chassis are chrome plated or powder-coated black. Beautiful Jarrah or Ebony (black) wooden cabinets make these preamplifiers visually stunning.
The Chardonnay has 1x XLR true balanced input and output and 4 RCA inputs and 3 RCA outputs and has adjustable gain for compatibility with all power amplifiers.
Despite it's low cost the Chardonnay is perhaps one of the most beautiful preamps available- with Jarrah or Ebony (black) wood cabinets and chrome or powder-coat chassis.
The Chardonnay is unlike any other tube preamp on the market and will transform your system.