Welcome to Supratek
For over 30 years Supratek has produced tube (or valve) preamplifiers and power amplifiers of the highest quality – Supratek is at the forefront of state of the art tube designs, utilising the finest designs, components and transformers available.
Pre-amplifiers
The preamplifier is the most important component in your system – the preamp is the heart of a good musical system and an award winning SUPRATEK preamp will make your system come alive. Transform your system with these ultra high quality preamplifiers.
Power Amplifiers
Over the years Supratek has produced many types of tube power amplifiers- Single Ended, Push Pull and OTL.
Some examples of which we were particulary proud of were the MERLOT Single Ended monoblock amps which used 6SN7, 300B and 6C33C-B tubes.
The finest examples used Plitron interstage, output and power transformers, sadly no longer available.
Plitron outputs were also used in the BURGANDY 100 watt push pull amp using 4 6C33C-b tubes per channel- clean,powerful and natural sound.
For those with high efficiency speakers it is very hard to go past the 300B DHT tube in a Single Ended or Push Pull configuration. Everyone should experience the sound of the 300B at least once in their life .
For a modern conventional tube amplifier its hard to go past the EL34 tube in a push pull ultralinear configuration- in a well designed amp its always sweet sounding and able to drive most speakers. Supratek still produces the MALBEC monoblocks using 4 EL34 tubes in a class A 30 watt design. Pictured below.
The MONDEUSE use EL34,KT66,6N3C, or KT88 tubes for 100 watts Class AB.
Both amps match perfectly with the Supratek preamps, both in compatibility and style.
Built to custom order only.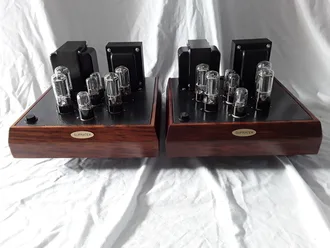 HANDBUILT / CUSTOM
All the Supratek products are handbuilt by Mick Maloney in Margaret River, West Australia. He has been designing and building tube equipment for over 25 years and has built close to 700 Supratek preamps and power amps. In addition to this he has designed and built many, many prototype designs that have evolved into the Supratek range.
The basic philophosy of Supratek is to build the finest sounding preamps, with exquisite aesthetics and high functionability.
The product must be of the highest build quality and reliability .
It should work faultlessly for many years with minimum or zero maintenance.
Every product is built to become a "classic" piece , that will be as relevant in 20 years as it is now. And that is what has happened- virtually all of the Suprateks are still in service , some over 20 years old with original tubes in them.
Because they are so over-engineered and robust Supratek provides a lifelong warranty (excl freight) that is transferable.
Only Supratek can offer such a warranty, as the products are so trouble free and dependable, and with no , or minimal PCB boards, they are simple to service.
As the preamps are built by one man, it is possible to custom build to owners requirements- if you have a particular requirement we can probably help you achieve audio nirvana.